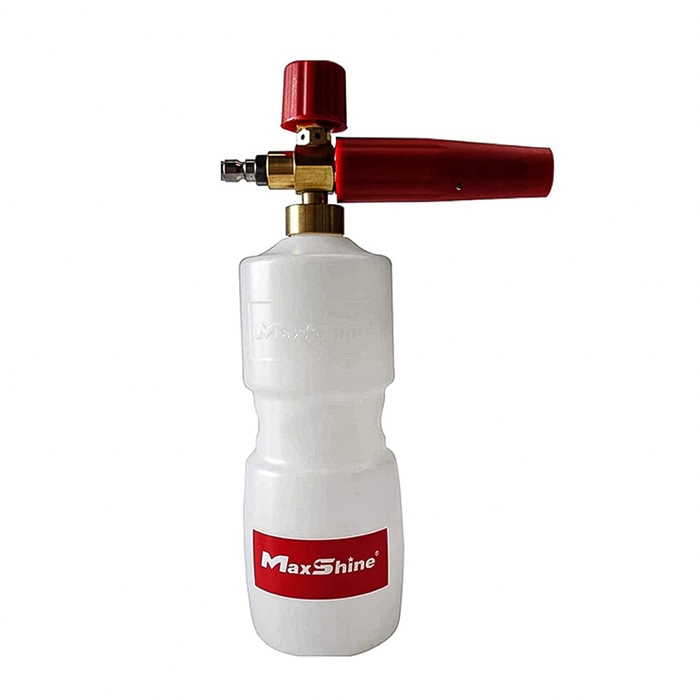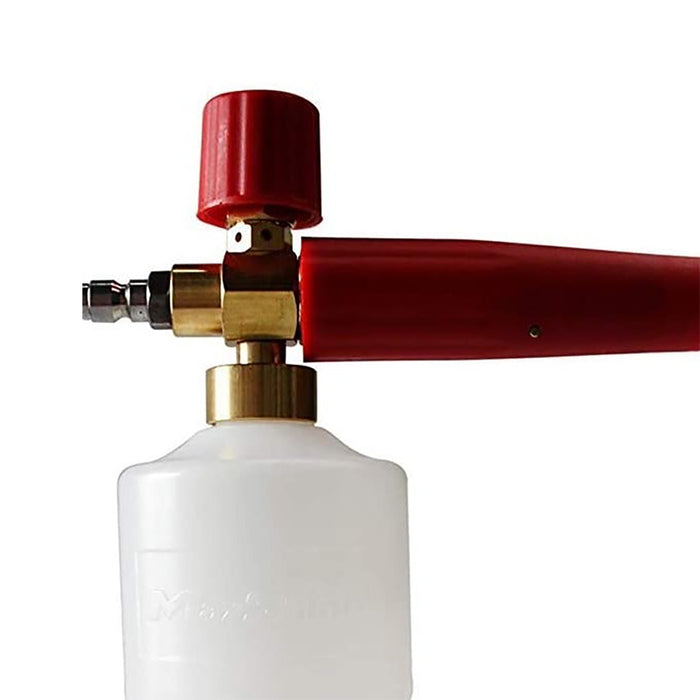 MAXSHINE Snow Foam Cannon
Maxshine adjustable snow foam cannon with 1/4″ Quick Disconnect Adapter Suitable for a wide range of Pressure Washer Units on the Market. The adjustable spray Head nozzle will ensure even coverage and foam is applied to all hard to reach areas.
The High Pressure Water and Foam Solution ensures that soap is driven deep into cracks and crevices to provide a safe and efficient solution to avoid swirls and scratches.
Use MAXSHINE's Snow Foam Cannon for a variety of Vehicles including Boats, Motorhomes, Trucks, Bikes and even great for cleaning around your house!
The large Capacity 32 oz, (1 Liter) Solution Bottle will ensure you have enough solution for many applications with one fill.
The Semi-Clear thick PVC Solution Bottle with heavy duty thread makes it easy to identify the level of Solution remaining. All MAXSHINE's products are made from High-Quality PVC, Brass, Copper, Stainless Steel and Nitrile O-Rings that are Chemical Resistant to ensure a leak-free, safe, enjoyable experience.
1. Combining the perfect amount of concentrate, high-pressure water and assisting in lifting Debris
2. Built with the highest quality materials and functional design touches to achieve maximum durability and efficiency
3. The large 32 oz. (1 liter) soap solution tank and fully-adjustable spray head ensures a full foam coverage on any vehicle, large or small
4. The new Tank Design provides proper hand grip and balance for quick, safe soaking.
5. Ideal for the enthusiast or professional that wants a Safe, Swirl Free, Pre-Soaking Experience.
Technical Specifications
Orifice size: 1.25mm
Capacity: 32 US oz
Inlet: 1/4"F
Minimum Pressure: 800 PSI
Minimum Flow: 1.4GPM
Maximum Temperature: 140°F
Nozzle Diameter: 1-1/4"
Maximum Pressure: 5,000 PSI
Maximum Flow: 5.3GPM
USING INSTRUCTIONS
Fill fluid bottle with desired amount of cleansers.
Fill the fluid bottle with water (for best results, use warm water, 20% cleansers +80% water is suggested).
Shake the fluid bottle to mix the cleansers with water thoroughly.
Attach fluid bottle to foam lance unit.
Attach the fitting/adapter to the pressure washer gun, and you can start using it.
SERVICE
Car, Motorcycle Washing, Floors,Windows washing, Driveways, Roofs, Siding washing and so on. Ideal for enthusiast or professional use. It can be directly connected with the gun on the pressure washer gun.