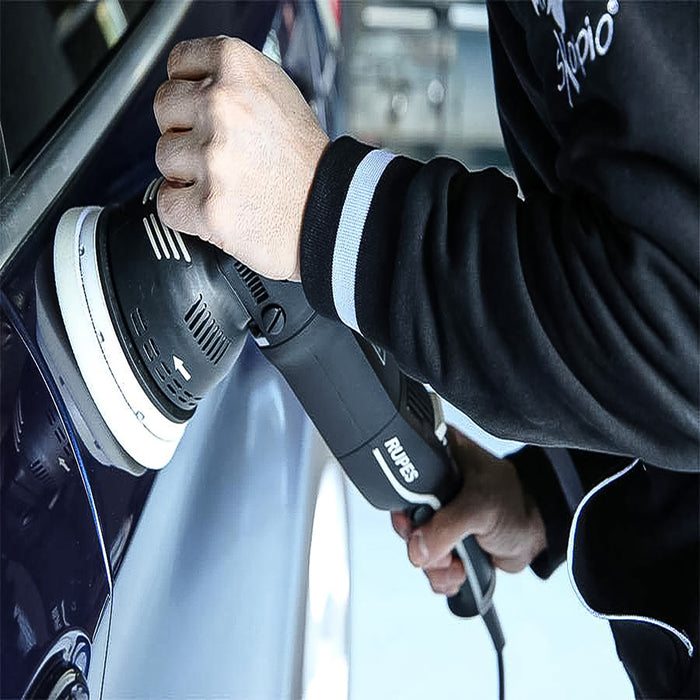 The Rupes BigFoot Mille LK900E is a gear driven polisher that will help you remove imperfections with ease! When polishing, heavy imperfections can be a pain to remove. For most imperfections, bumping up the polishing power with a stronger pad and polish combo will do the trick, however sometimes you may need some added pressure, polishing passes, etc. Some dual action polishers can easily bog down with added pressure, but the forced rotation feature of the Mille allows you to add more pressure without the unit bogging down! The power it generates is safe, smooth and easy to use! Check out some other great features of this polisher below:
Clockwise rotational movement allows increased levels of control and comfort
Progressive trigger to provide more precise control of speed through the entire range
Two rubber supports are positioned on the body of the machine to keep it stable when resting
Extra long 9 meter (30 foot) cord
Allows the use of two different pad diameters, 125mm and 150mm
With the high torque output and heat generated from this type of tool movement, Rupes also hopped on another step in the detailing process to maximize the performance of the tool. These added features include brand new
pads
with corresponding
compounds and polishes
. These are completely unique and designed and formulated for the Mille. If you are looking to flex your polishing muscle, the Rupes BigFoot Mille LK900E is a great choice!
Specifications:
Orbit: 5mm
Weight: 2.8kg
Power: 900 watts
Dual Speed Controls (trigger & speed dial)
OPM: 265 - 535 - 1700 rpm
9m power cord
Thread size: 3/16
Includes 2x Backing Plates: 125mm (5") and 150mm (6")