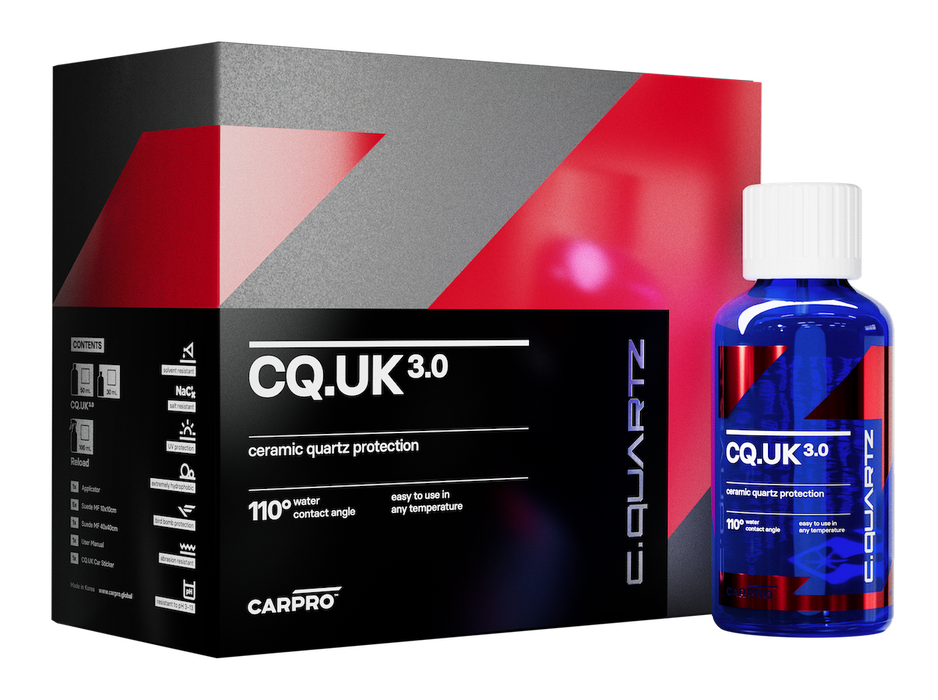 CQuartz UK 3.0 Ceramic Quartz Protection
Coat your car with the glossiest and hardest coating available on the open market!
The incredible 70% SiO2 with 99.9% purity formula is based on the same technology as the original CQUARTZ with some interesting tweaks. Other ceramic coatings have far less SiO2 (Quartz) in the product, however CQUARTZ UK has 70% SiO2 with 99.9% purity. This is the first ever coating which has this concentration! The pure quality ensures the most transparent glass coat film over the surface, which guarantees long lasting coating with extreme strength and water-repellency. Once the liquid meets the open air it cures and forms a ceramic quartz hard coating on the surface with extreme hydrophobicity and gloss beyond even that of CQUARTZ.
Why SiO2?
SiO2 is one of the hardest material in the world. It creates a very clear but still long lasting hard coating on automotive surfaces.
Kit Includes:
(1)  30ml bottle of CQUARTZ UK Edition.

(4)  4" MF suede applicators.

(1)  CQUARTZ applicator block.

(1)  16"x16" Orange suede leveling towel.
Features:
Protection and gloss comparable or better than our competitors "professional coatings" but easy to use for all detailers

CQUARTZ UK has 70% SiO2 with 99.9% purity!

Extremely deep, rich gloss.

Easy maintenance with "self cleaning" properties (stays cleaner than waxes, sealants, and other coatings).

Resistance to wash induced marring.

Average thickness of CQUARTZ UK layer is between 1 µm ~2 µm per layer.

Minor swirl filling abilities.

Repels water, oils, dirt, and contaminants.

Protection from UV rays.

Resists stains, bird droppings, water spots, and traffic film.

Resists extremely high temperatures. Feel free to coat engine components, etc that correspond to the materials shown.

Ultra hard CQUARTZ UK contains ceramic nano particles found within glass, the result is a highly reflective, transparent layer.

Can also be layered: May be applied within 45-60 minutes or wait until the following day if you are beyond 60 minutes.