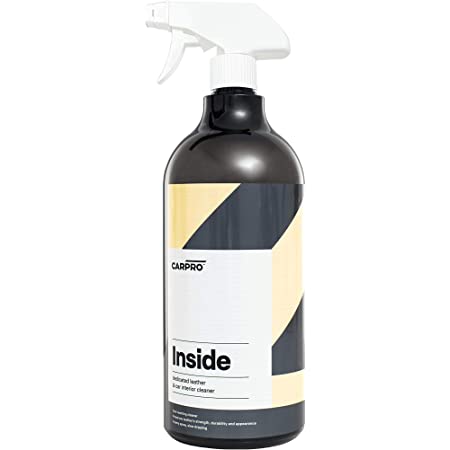 CARPRO Inside (Cleaner/Concentrate)
CARPRO Inside (Cleaner/Concentrate) 
Interior cleaner with a kick!
Introducing CARPRO Inside! An excellent new cleansing solution infused with organic essentials for vehicle interiors of many shapes and sizes!  Inside is specially formulated to clean vinyl, plastic, finished leather and a variety of interior surfaces! Utilizing a high foaming mix of proprietary surfactants and gentle detergents, CARPRO Inside is able to easily remove built up dirt, sweat, oils, and all manner of soiling on interior surfaces. The heavy foaming action allows perfect saturation of heavy dirt even when using a brush while the strong cleaners allow you to cut it 1:1 for typical soiling. Use as is for extra strength interior cleaning.
Features:
High foaming action.

Safe on most surfaces.

Dilutable for typical soiling.

Fresh welcome (not overly powerful) scent.

Infused with organic essentials.

pH 9~10
Directions:          
*CARPRO Inside can be used straight for heavy cleaning or dilute 1:1 for typical soiling or lighter cleaning.
Shake well.

Apply to affected areas with cleaning towel.

Agitate with brush, cleaning pad, or towel.

Wipe off any remaining residue with wet towel.
Cleaning Alcantara:
 *Dilute CARPRO Inside to a dilution ratio of 1:10.
Check for color fastness on inconspicuous area.

Spray fine mist onto surface.

Rub gently with a soft cloth in small circular motions.

Wipe with water damped cloth to remove excess residue.
Recommended Surfaces:
Finished leather.   

Vinyl.

Plastic interior surfaces.

Wood interior trim.

Fabric interior.

Carpets.

Rubber mats.

Fabric mats.

Seatbelts.