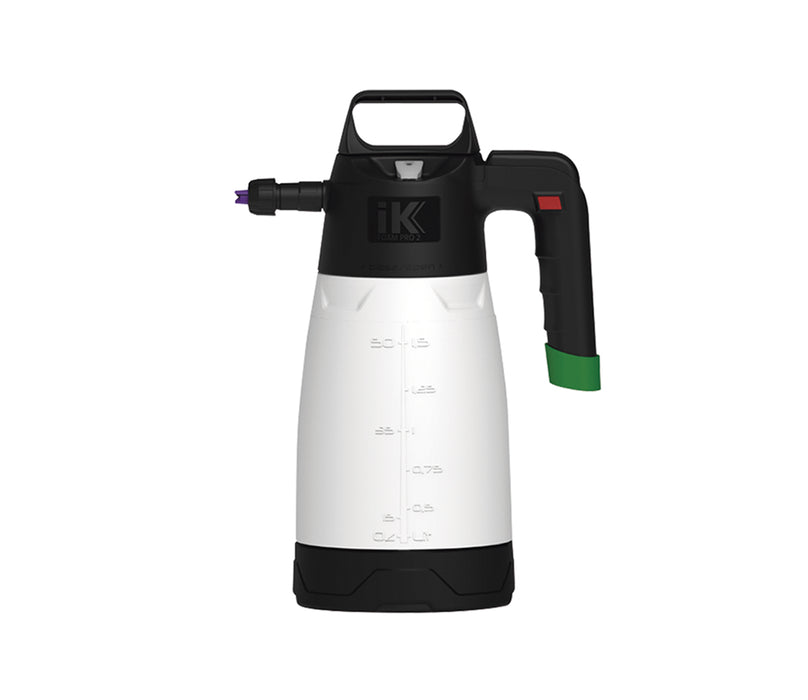 The IK Foam Pro 2 sprayer provides the user with a dense and durable foam suitable for cleaning and disinfecting upholstery, carpets, and foaming the exterior of your vehicle. Designed for use with chemical agents with surfactant properties (surface active). Dilute your favorite APC, Car Wash Soap, or Iron Remover, depending on the task at hand. Provided with the sprayer are 3 color-coded adaptors for different foam production (dry, wet, or standard foam). 
Features: 
Resistant to most acids and solvents

3 bar safety valve with depressurization option  

Large opening for easy filling and cleaning 

Innovative and ergonomic design.

Strong translucent tank with level indicator 

The base for greater stability

Safety lock

Protective sleeve for valve chamber 

Easy assembly and taking apart for cleaning and maintenance, tool-free  

Special "foam" even fan-type nozzle

Comes with three (3) Color-Coded Mixer Adaptors!  Creates your choice of dry, wet, OR standard foam

Color-coded caps are included to identify the contents of the sprayer and for nozzle storage.