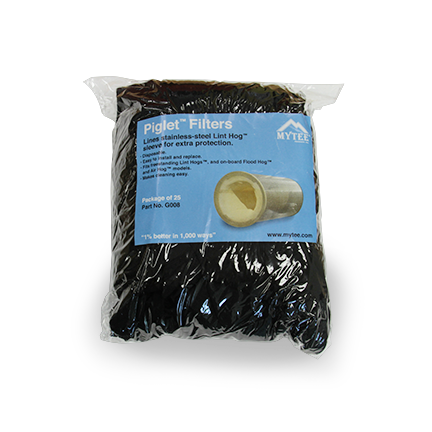 MYTEE G008 Piglet™ Filters
Here's the perfect compliment to Mytee's® Lint Hog stainless steel mesh filter — Piglet™ Filters. The Lint Hog™ traps debris before it reaches the extractor's motor, preventing down time and costly repairs. Nylon Piglet™ Filters line the stainless steel filter for added protection against debris.
Piglet™ Filters can also be used with all Mytee® extractors. Simply feed the filter through the vacuum port, then fold the end of the filter over the port. Attach your hose as you normally would.
Features:
Catches loose debris to prevent damage to vacuum motor
Makes the Lint Hog™ easier to clean (just remove, turn inside-out, rinse off and reuse)
Makes the Lint Hog's™ stainless steel filter even more effective in protecting the extractor's motor
Simple to install and replace
Perfect for Lint Hog™, and Flood Hog™ and Air Hog™ models